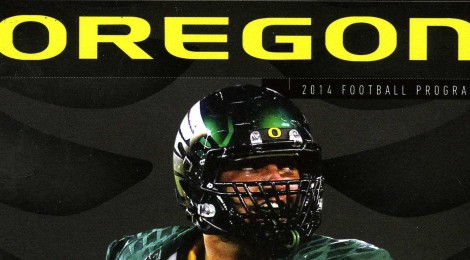 Outstanding On and Off the Field – Hroniss Grasu
Stanford at Oregon 2014 Program Feature
A couple weeks ago, Hroniss Grasu was driving home from the Hatfield-Dowlin Complex. He'd just picked up his girlfriend, Kristin MacDougald, and the two were headed back to his apartment. As Grasu's GMC Yukon motored down the street, he noticed his neighbors at the corner of the block—the young family with two little boys—were trying to load their car. The mom had her hands full and the dad was struggling to round up the kids, one of whom was too preoccupied shooting hoops in the driveway to obey his parent's coaxing.
Just before Grasu's car reached the sharp turn near his neighbor's home, a basketball rolled out in front of his wheels. Without panic, the offensive lineman slammed on the brakes and gestured to the little boy and his dad that it was safe to cross. The boy was petrified and wouldn't go.
"You could tell the dad was saying something like, 'It's fine, go ahead. I'll get the ball later,'" MacDougald says. "But Hroniss pulled over, put the car in park, grabbed the ball and brought it back across the street to the little boy. He could've just driven by—I was in the car and could've gotten out too—but you could tell he genuinely wanted to do it and I think that speaks volumes for his character."
The Ducks' four-year starting center doesn't like it when attention is cast upon him. He does, however, love when his quarterback, receivers and running backs earn praise. On game days, the spotlight always shines brightest on the player directly behind him, and that's the way he likes it. "I don't want people to be talking about me at all. I want people to be talking about the team," Grasu says. "That's part of being an offensive lineman. You have to be able to go unnoticed to make the other guys look good."
In the huddle and within the locker room, though, his teammates clearly notice and appreciate their selfless offensive staple's impact. Grasu is one of the most decorated linemen in Oregon history and a likely early-to-mid round pick in the upcoming NFL Draft. The Los Angeles, Calif. native earned All-America honors in each of the past three seasons, first-team all-conference selections his sophomore and junior seasons and completed 2013 as a Rimington Trophy finalist.
Grasu is the undisputed leader on a team scattered with award-winners, and the honor he should covet most is one voted on by a committee comprised of his teammates. For the past two years, Grasu has been the recipient of the Todd Doxey Award, which the team gives to the player who best exemplifies what it means to be the most outstanding teammate on and off the field. The award is intended to commemorate the life of Todd Doxey, a defensive back for Oregon who drowned before the 2008 season.
"These guys on the team will be my brothers for the rest of my life," Grasu says. "Anyone on this team knows that they can reach out to me at any time and I make sure they know that."
The senior, who has started in every game since the beginning of the 2011 season, credits his family for instilling his respectful, "it's not about me" personality and igniting his passion for football—though his parents were hesitant to let him play at first.
"I think everybody's always wondering why they do what they do, and my why is my family. When I get up in the morning, I'm always thinking about them. If I'm too sore, or hurting they get me going," Grasu says.
His parents, Steve and Mariana, attend every single game, home or away, which is something they also did for Grasu's brother, Nico, who was a kicker at Washington State.
Growing up, Grasu's first love was basketball. He played mostly power forward and center all his life, but dabbled at every position. He didn't start playing football until he was a freshman at Crespi Carmelite High School. "I wouldn't be playing football if it wasn't for my brother. When he was a junior in high school, he snuck out there without telling my parents and started playing. I always wanted to do what he did," Grasu says.
His first season didn't play out as he hoped it would. "I was terrible. I didn't even know how to get into stance," he says. "But I was willing to do whatever it took to get onto the field."
By the end of his sophomore season, Crespi was the state champion, football was finally making sense and Grasu began to realize his potential. So he sacrificed his first love. "Basketball was my first sport and I still love it very much. But I got too short and too fat and too slow, and started taking football more seriously," he says.
In 2010, Grasu signed his National Letter of Intent to attend the University of Oregon, but his big news was overshadowed by his teammate, four-star quarterback Bryan Bennett, announcing his decision to play for the Ducks. Grasu didn't need the glory; he was simply excited to have an opportunity to play at the next level.
After redshirting for a year, the undersized, scrappy center sprang up the depth chart from third-stringer to starter. Now, he's logged more playing time than anyone on the roster and touches the ball more than Marcus—but most fail to appreciate the fact that he's a Sports Illustrated cover boy just like Mariota. And that's completely fine with him.
Grasu's responsibility is to deliver the ball to his quarterback and protect him until the play is blown dead. That's why, naturally, he didn't hesitate when he chose to go out of his way to fetch his neighbor's ball.
As the first-team All-American turned the keys and put the car back in drive, MacDougald asked why he didn't offer to sign the boy's ball. He looked back at her with a puzzled expression and continued on his way.