2014 Oregon Football Yearbook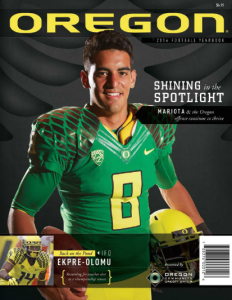 Outstanding On and Off the Field – Hroniss Grasu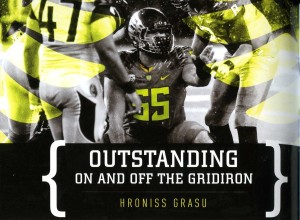 A couple weeks ago, Hroniss Grasu was driving home from the Hatfield-Dowlin Complex. He'd just picked up his girlfriend, Kristin MacDougald, and the two were headed back to his apartment. As Grasu's GMC Yukon motored down the street, he noticed his neighbors at the corner of the block—the young family with two little boys—were trying to load their car. The mom had her hands full and the dad was struggling to round up the kids, one of whom was too preoccupied shooting hoops in the driveway to obey his parent's coaxing.
Just before Grasu's car reached the sharp turn near his neighbor's home, a basketball rolled out in front of his wheels. Without panic, the offensive lineman slammed on the brakes and gestured to the little boy and his dad that it was safe to cross. The boy was petrified and wouldn't go… Click to read more
Sticking To His Instincts – Ifo Ekpre-Olomu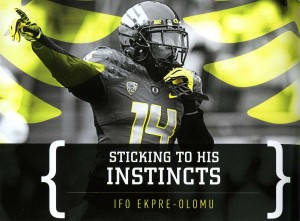 When everyone told him it'd be foolish to pass up the NFL for another year of school. When everyone was in his ear saying he shouldn't play at Chino Hills High. When everyone said he'd be a better free safety than cornerback. Ifo Ekpre-Olomu thought otherwise.
The Ducks' senior two-time All-American will politely listen when given advice. But unless he's taking orders from his coaches, outside opinions won't have much influence on the decisions he makes… Click to read more
Anchored in Art & Football – Tony Washington Jr.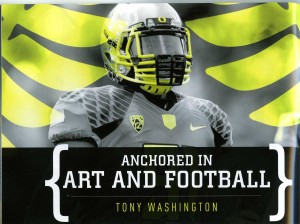 Anyone shorter than 6-foot-3 would have to look up to have an eye-to-eye conversation with Tony Washington Jr. But kids look up to the Ducks' bruiser for a different reason.
When the senior outside linebacker finds a chance to get away from the chaos he helps create on the football field, he heads to the Jordan Schnitzer Museum of Art on campus to mentor young art students… Click to read more
Finding His Place at Oregon – Jake Fisher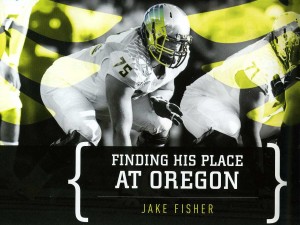 It's Sept. 6, 2014 and the Ducks are going to battle with the Spartans for the first time in over 15 years. Jake Fisher has played in all but one game since he arrived on campus three seasons ago, but this game is especially significant for the senior offensive lineman. This one hits close to home.
Had Fisher not taken a last minute recruiting trip to Eugene nearly four years ago, he might be standing on the opposite sideline tonight… Click to read more
The Poetic Soul of Derrick Malone Jr.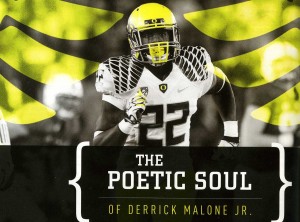 Most football players make a point to act like a tough guy on and off the field. Most football players don't use a pen to express their emotions. Most football players don't write poetry after practice. Most football players aren't like Derrick Malone Jr.
But in his opinion, there is no typical football player—although he'll be the first to admit that he's always been the 'oddball' among his teammates.
"There are many people on the team with different talents. Some people can sing, dance, play instruments, speak different languages…," the redshirt senior linebacker said. "I feel like the dumb jock stereotype is so outdated. Not any one of us are the same."
Malone Jr.'s unique off-the-field talent happens to be writing… Click to read more
Ambassador of the Game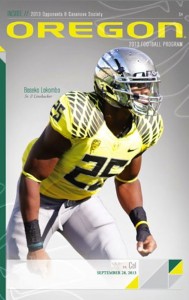 Minutes before every game kicks off, football foes put aside their grudges and rise to collectively salute the American flag. As the national anthem begins to echo throughout the stadium, it seems all in attendance are standing for the United States of America. Boseko Lokombo, however, places his hand over his heart to show respect to his host nation.
If Lokombo had things his way, the loud speakers would blare "Oh Canada" before the first snap of each game. The senior linebacker is the only member of the Ducks football squad that is not an American citizen… Click to read more
Draft Preview: Mitchell Again Outperforming Expectations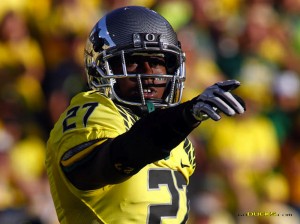 Terrance Mitchell has always thrived when he has something to prove.
A three-year starter at cornerback for Oregon, Mitchell developed from a three-star recruit into an honorable mention all-Pac-12 selection as a sophomore… Click to read more
Hueffner Twins Work to Earn Lineup Spot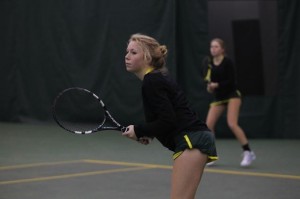 Twin sisters Allie and Kadie Hueffner have always performed best when depending on one another. Their next chance to do so in competition for the Oregon women's tennis team could come as soon as Saturday.
The only Oregon natives on the UO roster, the Hueffners are using this season mostly for training, and acclimating to college tennis. But depending on the status of some teammates, Allie and Kadie are under consideration for their second appearance when the Ducks host Akron on Saturday at 4 p.m. in the UO Student Tennis Center.
The new Ducks tennis duo has been doubles partners since the day they first held a racket… Click to read more