KidSports: South Eugene Has Strong Performance In Victory Over Pleasant Hill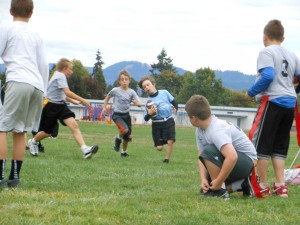 The summer sun has retreated behind an overcast sky, trees are turning golden and the youth flag football season is winding down.
South Eugene defeated Pleasant Hill, 19-12, on the gridiron behind Kelly Middle School on Sunday. One game remains in the regular season for the Emerald KidSports 4th-5th grade flag football league… Click to read more
Ducks Can't Douse Sun Devils, Fall 2-1 at Home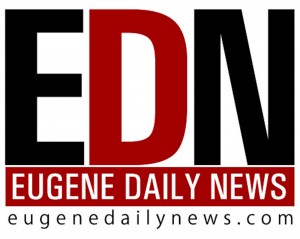 The Arizona State Sun Devils brought down the Oregon Ducks at Papé Field on Sunday, defeating the home team 2-1 in a conference nailbiter.
Oregon took command of the game early when sophomore midfielder Ryann Davie scored her first career goal in the second minute. The Ducks were aggressive from the start, but seceded this intensity to their opponent following Davie's goal. In the 39th minute, Arizona State's co-leader in goals scored, forward Cali Farquharson propelled the equalizer. The Sun Devils would not look back from that point forward… Click to read more
Timbers Fall to Rival Sounders in Potential Cascadia Cup Clincher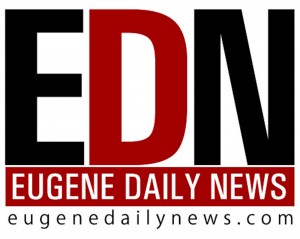 Pressure seemed to have gotten the best of the Portland Timbers playing Sunday night fútbol on ESPN yesterday. The struggling MLS club appeared camera shy losing 3-0 to the Seattle Sounders in front of a nationally televised audience.
Despite their dismal record and second-to-last place standing in the Western Conference, the Timbers could have been crowned Cascadia Cup champions with a victory…. Click to read more
On Your Mark, Get Set, Go-bble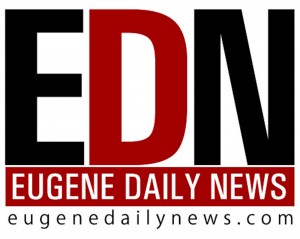 Before indulging in feasts this Thanksgiving, consider burning a few last minute pre-meal calories at Eugene's third annual Turkey Trot.
Approximately one thousand racers are expected to dash across jogging trails at Skinner Butte Park Thursday morning—vying to capture the title of Track Town's fleetest on foot… Click to read more

Sheldon Seeking Championship Rematch After Victory Over Willamette/North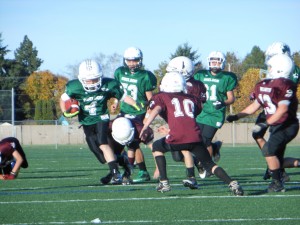 Sheldon's 6th grade tackle football team is headed to its second straight KidSports Championship game after defeating Willamette/North 32-12 last Sunday. On an unseasonably warm and cloudless autumn afternoon, the playoff semi-finalists took to the turf at Meadow View School to decide Churchill's Championship opponent next week... Click to read more