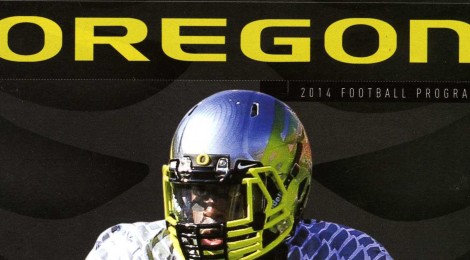 Anchored in Art & Football – Tony Washington Jr.
Wyoming at Oregon 2014 Football Program
Anyone shorter than 6-foot-3 would have to look up to have an eye-to-eye conversation with Tony Washington Jr. But kids look up to the Ducks bruiser for a different reason.
When the senior outside linebacker finds a chance to get away from the chaos he helps create on the football field, he heads to the Jordan Schnitzer Museum of Art on campus to mentor young art students.
Last winter, the director of education at the museum, Lisa Abia-Smith, approached Washington and asked him to facilitate her art mentoring program. The museum is one of eight organizations in the state that was awarded a World of Work grant from the Oregon Arts Commission. The project provides a semester-long employment opportunity for fifteen high school students, generally from at-risk backgrounds, so they can learn the ins-and-outs of operating a museum and acclimate to the college atmosphere.
Ultimately, the goal is for the students to pass down their knowledge after they are trained by instructing art classes for younger children.
Abia-Smith got to know Washington a couple of years ago after he took her Art of the Athlete class—a student-athlete exclusive course offered through the Department of Arts and Administration. "Tony was the first person I thought of when it came to our program," she said. "He's always been interested in mentoring younger students and I saw what that art class did for him, how it opened him up and tapped his creativity and confidence. Hearing his story of how art has helped him move forward, I thought he'd be a great example to serve with other students."
Every Saturday when he isn't caught up in the grind of the football season, the Ducks' 2013 leader in sacks leads the art access program, the museum's weekly workshop for young artists with disabilities. "He has so many things he can offer to kids, in particular those who are struggling. He's such a powerful person and has a strong moral compass," Abia-Smith said.
The linebacker is no stranger to struggle. Washington was at football practice back home in Rancho Cucamonga, Calif. when he found out his father, Tony Washington Sr., had passed away. Six years later the grief is still there; but art, football and mentorship have proven to be his therapeutic anchors.
"Tony will talk about hardship. He's had grief in his life. But this is a great way for him to model how he faced those challenges and how art can be a big part of the healing process," said Abia-Smith. "For a lot of these kids who have disabilities, art becomes a way for them to process what's happened to their bodies and rehabilitate."
Washington didn't consider himself "artsy" as a kid. He would draw here and there, but never thought his creations were any good, so he shied away from the hobby. But after taking Abia-Smith's Art of the Athlete class and getting involved at the museum, he's embraced the role of artist and mentor.
"I really figured out what art can do for you. It lets you express yourself in a different way," said Washington. "Just by looking at art, you don't always know what it's trying to portray because there are so many ideas and thoughts that go into a piece."
Free time comes sparingly for the all-conference honorable mention selection, who's wrapping up a double-major in psychology and sociology this fall. Though he's usually playing in games the day before, every Sunday he's made it a habit to attend services at the Eastside Faith Center just down the street from Autzen Stadium. Defensive coordinator and former linebackers coach Don Pellum introduced him to the church, where he's spent the past four years volunteering as a youth minister for elementary school children.
"Church starts around 10 o'clock so I think I get enough rest from the night before. Sometimes it's hard when we have away games, but I think it's nice to be around a good group of people and be able to help the kids," Washington said.
Opponents may fear Oregon's number-one pass rushing threat at linebacker, who ranked 13th nationally in forced fumbles last season (4). But when he's mentoring children at church or the museum he's just their big, tall friend. "Kids are always at his side pulling on his shirt. They're looking for role models and they love it when they see college kids that are mentors to them," said Abia-Smith.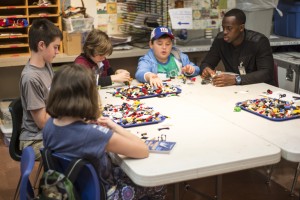 It's apparent with just one glance that Washington is an athlete, but the museum staff doesn't preface to the kids that he plays for the Ducks. Once they find out, though, they're usually stunned.
"I think they're surprised because they can't believe for one, that a football player, or anyone in athletics, would be interested in the arts. And two, that he would be interested in working with kids who, in most cases, aren't the star football player at their school–they are kids who come from a difficult background or are struggling with a disability," said Abia-Smith.
Eventually when his days on the gridiron come to an end, Washington wants to put his mentorship experience to use as a guidance counselor. Not just because he likes working with kids, but because he notices they make him a better person.
"I think they help me more than I help them," he said. "Seeing how carefree they are reminds me to enjoy my life and have fun."
Juggling football, two majors and mentoring the youth is a challenge. But Washington couldn't see it any other way.
"One thing they preach here at Oregon is just being a good man. Being able to help out other people and give back reinforces that," Washington said. "I needed a lot of help to become who I am today and I didn't get here on my own. I'm not one of those self-made guys."
Click to view the condensed digital program
Photo: Jonathan B. Smith